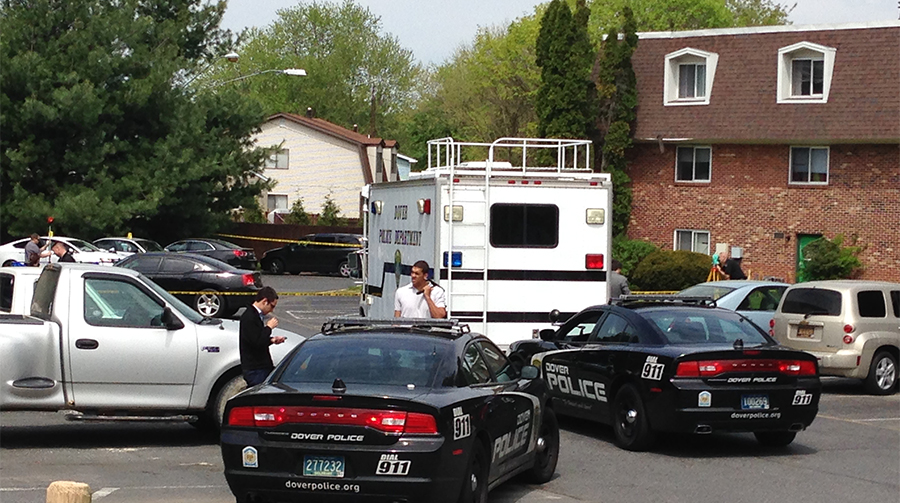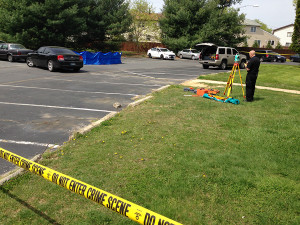 UPDATED STORY: Two men charged, victim identified
DOVER, DELAWARE (4/30/2015) A manhunt was underway this morning after a fatal shooting at the Pine Grove Apartments complex on Webbs Lane, Dover police said.
City officers along with Delaware State Police troopers were searching for a possible suspect after the shooting reported at 9:42 a.m.
But at 11:24 a.m. police announced they were certain the suspect was no longer in the area and a lockdown was lifted at nearby Reily Brown Elementary School.
Just before noon, the victim's body remained covered by blue tarps in the parking lot of the apartment complex.
Earlier, Cpl. Mark Hoffman said the school was keeping all students and staff indoors as a precaution.
The Caesar Rodney School District announced on its website that the school "went into an immediate lockdown when a large police presence was observed in a nearby neighborhood. Following Brown's lockdown, Assistant Superintendent Dr. Scott Lykens contacted all Caesar Rodney schools (except George Welch Elementary and Dover Air Base Middle Schools) to cancel all outside activities and maintain heightened awareness since law enforcement continues to search the surrounding area."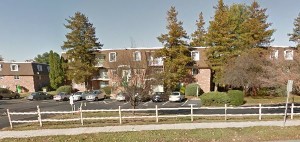 Hoffman did not release any details on the circumstances of the shooting.
Police asked motorists to avoid the area of Webbs Lane between Governors Avenue and New Burton Road.
On Sunday, a 29-year-old man was shot to death on North New Street in Dover. No arrests have been reported in that case.
On Tuesday, a suspect spotted on surveillance video was arrested soon after a shooting on South Queen Street.
Suspect in Queen Street shooting arrested
Dover police: Suspect swallowed evidence
29-year-old man shot to death in Dover
Dover man shot to death in Meadowbrook Acres