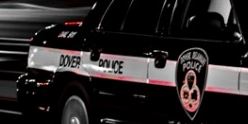 DOVER, DELAWARE (4/30/2015) A 39-year-old man who fled from Dover officers was arrested on several charges after he swallowed evidence, police said this morning.
The incident began about 7:40 p.m. Wednesday in the White Oak condominiums at 1001 White Oak Road.
Police attempted to make contact with Joevon R. Russ as part of a drug investigation, Lt. David Spicer said, but Russ fled on foot and was apprehended after a brief chase.
Spicer said Russ resisted arrest and caused damage to a mirror on a parked vehicle.
Russ then swallowed what appeared to be suspected crack cocaine, Spicer said.
Officers tried to remove it but were unsuccessful.
Russ was taken to Bayhealth Kent General Hospital for evaluation and then released with no injuries found, Spicer said.
Police charged Russ, of the 700 block of Bacon Ave. in Dover, with resisting arrest, criminal mischief and tampering with evidence.
He was released on $1,500 secured bond.