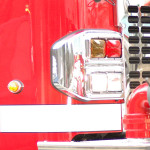 NEW CASTLE, DELAWARE (4/30/2015) A house fire in the Garfield Park neighborhood near New Castle this afternoon has been ruled accidental.
Minquadale firefighters found heavy smoke pouring from the home in the 100 block of Donhaven Drive when they arrived just after noon, said Michael G. Chionchio, assistant state fire marshal.
He said the fire began on the exterior of the building and was caused by faulty electrical wiring.
No injuries were reported.
Damage was estimated at $25,000.