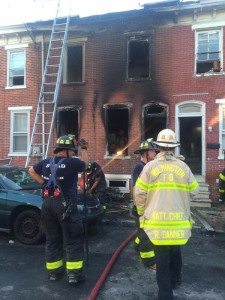 UPDATED STORY: Wilmington blaze started by child with lighter
WILMINGTON, DELAWARE (9/6/2015) Authorities now say three people, including a firefighter, were taken to a hospital after a row home fire in Wilmington this evening.
The fire at 843 Kirkwood St. was reported at 5:13 p.m.
New Castle County paramedics  arrived to find the home on fire and treated two occupants — a 10-year-old boy and a 40-year-old man.
The boy was treated for minor burns to his lower extremities, then taken by ambulance to Wilmington Hospital, said paramedics Cpl. Abigail Haas.
The man was evaluated for scrapes before he was taken to the hospital, she said.
A city firefighter also was taken to the hospital for evaluation.
Wilmington Fire Chief Anthony Goode tweeted at 6:47 p.m. that the fire at 843 Kirkwood St. was extinguished.
St. Francis EMS also responded.
$75,000 fire damage at Swell Tiki Bar near Rehoboth Beach
Simonds Garden playground fire ruled arson
Fire at home north of Middletown called arson