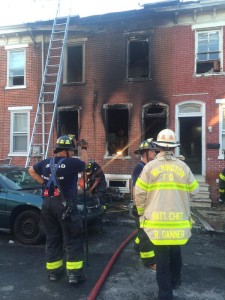 WILMINGTON, DELAWARE (9/7/2015) A row house fire that sent three people to a hospital was started by a child playing with a lighter and has been ruled accidental, the Wilmington Fire Department said today.
The fire was reported at 5:13 p.m. Sunday at 839 Kirkwood St., with initial reports indicating people were trapped in the building, said Battalion Chief James Jobes.
He said heavy flames were coming from the first floor when firefighters arrived and quickly spread to the second floor and roof line before Battalion Chief Richard Danner declared it under control at 5:59 p.m.
One firefighter suffered first- and second-degree burns to his lower leg.
A 40-year-old father who lived in the home was treated for scrapes and cuts to his feet due to broken glass and no shoes, authorities said, and a 10-year-old boy was treated for smoke inhalation.
All three were taken to Wilmington hospital and have since been released, Jobes said.
He said there was heavy fire and smoke damage to the home but no dollar estimate was available. The adjoining properties also had fire and smoke damage.
The city License and Inspection Department declared the home unsafe for the residents to return. The Red Cross was assisting two families – a total of six adults and two children – affected by the fire.
3 sent to hospital after Wilmington fire