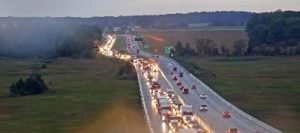 LITTLE HEAVEN, DELAWARE (10/16/2017) A fatal crash closed southbound Route 1 in Little Heaven for more than 2.5 hours this morning, according to Delaware State Police.
The crash involving two vehicles was reported at 5:56 a.m. in the southbound lanes of Route 1 (Bay Road) north of Mulberrie Point Road.
Police said a 58-year-old Houston woman, later identified as Patricia M. Rolling, was driving a 2007 Kia Spectra northbound when for unknown reasons it went into the median, spun around and entered the southbound lanes.
A 36-year-old Dover man driving a 2007 Hyundai Sante Fe SUV was unable to avoid striking the the Kia on the right front side.
The Kia was pushed south and came to rest on the right shoulder. The Hyundai spun around and came to a stop a short distance south of the impact.
Rolling was taken by ambulance to Bayhealth Kent General Hospital in Dover, where she was pronounced dead. Police withheld her name pending notification of next of kin.
The Dover man was taken to the hospital, treated for injuries and released, police said.
Southbound traffic on Route 1 backed up north of the Route 9 overpass near Dover Air Force Base, nearly 4 miles north of the crash scene.
Southbound traffic was diverted off the highway onto Trap Shooters Road and Barkers Landing Road through Magnolia onto Clapham Road to return to Route 1, with a long backup visible on a DelDOT traffic cameras.
Woman struck on Route 1 in critical condition
Teenage girl shot in leg at Wilmington playground