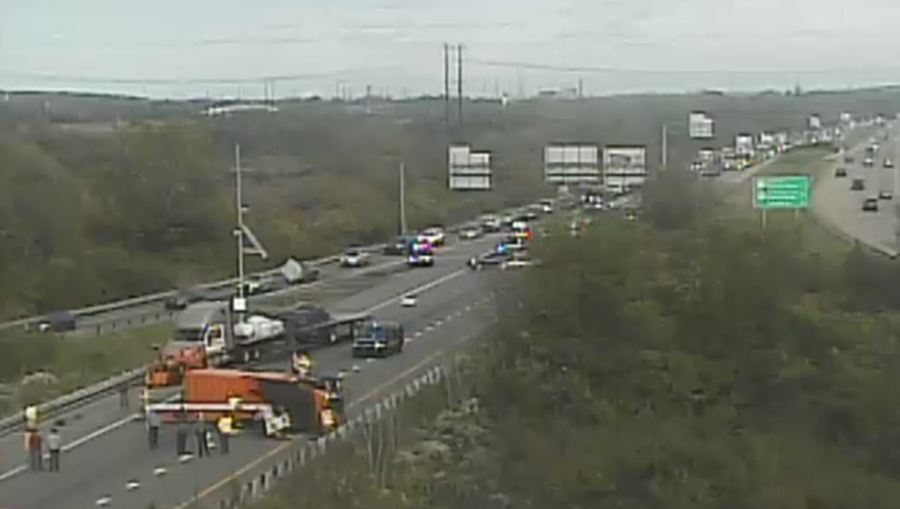 NEWPORT, DELAWARE (10/17/2017) A tractor-trailer driver was cited for following too close after a multi-vehicle crash that closed southbound Interstate 495 near Newport for three hours Monday during the evening rush, Delaware State Police said.
The crash happened shortly before 4 p.m. at the southern junction with southbound Interstate 95.
Police said a 2015 Ford truck, towing a trailer, was southbound on I-495 in the center lane and slowing for traffic when it was rear-ended by a 2012 Freightliner tractor-trailer.
The impact forced the Ford into the left lane, where it struck a Dodge Ram pickup truck. The dodge, driven by a 48-year-old Wilmington man, struck a guardrail before coming to a stop.
The Ford overturned, with the trailer striking a Chevrolet Silverado pickup driven by a 42-year-old Newark man.
The driver of the Ford, a 57-year-old Felton man, was not injured, but a 40-year-old man riding in the front seat suffered minor injuries and was taken to Christiana Hospital in Stanton.
No other injuries were reported.
The driver of the tractor-trailer, cited for following too close, was identified as Irick Laverne, 45, of Charlotte, North Carolina. Police did not release the names of the others involved.
Department of Natural Resources and Environmental Control responded to clean up 30 gallons of hydraulic fluid and 10 gallons of diesel fuel that spilled.
Woman, 58, killed in Route 1 crash
Two children found dead in Wilmington home