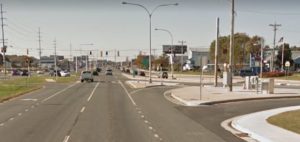 REHOBOTH BEACH, DELAWARE (10/15/2017) A 48-year-old woman from New York was in critical condition after being struck by a car early today near Rehoboth Beach, the Delaware State Police said.
The collision was reported at 1:13 a.m. on Coastal Highway (Route 1) near Rehoboth Avenue (Route 1A).
Police said the woman, later identified as Rhonda Oliver, wasn't using a crosswalk when she walked across the northbound lanes into the path of a 2003 Toyota Celica. She was struck by the right front of the car and came to rest in the right northbound lane.
The driver of the Toyota, a 19-year-old Rehoboth Beach man, brought the car to a stop and remained at the scene. He was wearing a seat belt and wasn't injured, police said.
Oliver was taken by ambulance to Beebe Healthcare's hospital in Lewes, then transferred to Christiana Hospital in Stanton.
No charges have been filed.
Northbound lanes of Route 1 were closed about three hours as police investigated.
Anyone with information on the crash is asked to contact Sgt. A. Mendez at 302-703-3269.