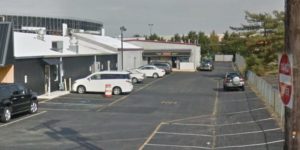 DOVER, DELAWARE (10/15/2017) Two men were wounded in a shooting outside the Allure Nightclub in Dover early today, city police said.
The shooting at the club, formerly known as Bubba's, at 865 N. DuPont Highway (U.S. 13), happened about 1:25 a.m.
Police said they found no evidence of the shooting in the parking lot when they arrived, but the two victims had been taken by private vehicle to Bayhealth Kent General Hospital.
The men, ages 25 and 22, suffered wounds to their right legs, police said.
"Despite hundreds of people in attendance, no witnesses came forward in the early stages of the investigation. No suspect information is available at this time," Master Cpl. Mark Hoffman said.
He asked anyone with information to call police at 302-736-7111.