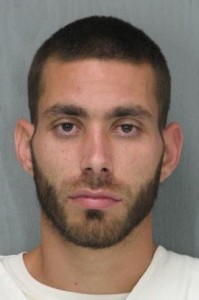 MILLSBORO, DELAWARE (2/10/2016) A man sought in connection with five bank robberies across the state and a gas station robbery has been arrested, Delaware State Police said.
Darryl M. Trostle, of the Seaford area, was taken into custody Tuesday near Millsboro after a tip was submitted through Delaware Crime Stoppers, police said.
He was charged in these robberies:
• Valero Shore Stop, 4434 Summit Bridge Road near Middletown, on Jan. 29.
• WSFS Bank, 2005 Concord Pike, Fairfax, on Jan. 30.
• Wells Fargo Bank, 2011 Concord Pike, Fairfax, on Feb. 2.
• WSFS Bank, 210 Fox Hunt Drive, Glasgow, on Feb. 2.
• WSFS Bank, 400 E. Main Street, Middletown, on Feb. 4.
• WSFS Bank, 19335 Coastal Highway, near Rehoboth Beach, on Feb. 8.
State police charged him with two counts of first-degree robbery, five counts of second-degree robbery and wearing a disguise during commission of a felony.
Middletown police filed second-degree robbery charges in the Main Street crime.
Police: Bank robbery suspect identified