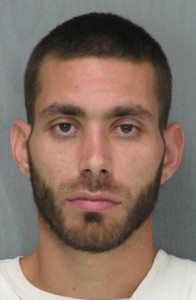 GLASGOW, DELAWARE (2/3/2016) Less than a day after release of a surveillance image, a suspect in the robbery of a WSFS Bank branch and the attempted robbery of a Wells Fargo branch has been identified, Delaware State Police  said this afternoon.
The attempted robbery happened Tuesday at the Wells Fargo, 2011 Concord Pike (U.S. 202) in the Fairfax Shopping Center.
Police said the man approached a teller with a note demanding cash. A weapon was implied but not shown, police said. The teller refused to turn over money and the man fled. No one was injured.
The robbery happened later, about 5:45 p.m., at the WSFS branch at 211 Fox Hunt Drive, in the Fox Run Shopping Center.
The man again presented a note demanding cash, and the teller complied, police said. No weapon was shown or implied, and no injuries were reported.
Acting on tips from several sources and using other investigative means, police said, they identified Darryl M. Trostle, 32, of the first block of Marathon Drive north of Seaford, as the suspect in both crimes.
Detectives have warrants charging him with first-degree attempted robbery and second-degree robbery.
He also is wanted on identity theft charges and other warrants out of Kent County courts.
Anyone with information is asked to call Detective Jonathon Packard at 302-365-8434.
Tips also may be submitted anonymously through Delaware Crime Stoppers, which offers rewards, at 800-847-3333 or www.delaware.crimestoppersweb.com.