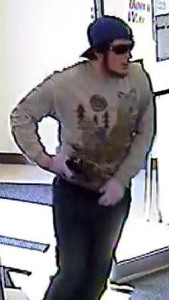 FAIRFAX, DELAWARE (7/27/2015) Delaware State Police say a man who robbed a WSFS bank branch in Fairfax last week also is suspected in two bank heists in Talleyville earlier this year.
The latest robbery happened at 9:09 a.m. Friday at 2005 Concord Pike, police reported this morning.
As in the earlier incidents, the robber displayed a gun, demanded money from a teller and they complied.
No one was injured in any of the robberies.
The earlier crimes happened at Artisans' Bank, 3631 Silverside Road in Talleyville. One was at 9:18 a.m. on May 14 and the other was at 9:30 a.m. on June 8.
The robber is described as a white man 25-35 years old, about 5-feet-11 with medium build.
Police asked anyone with information to contact Detective J. Paul Doherty at 302-365-8438.
Police say same man robbed Artisans' Bank twice
Artisans' Bank robbed in Talleyville
Wilmington police say man robbed 3 banks; rewards offered
Newark police arrest Wells Fargo Bank robbery suspect