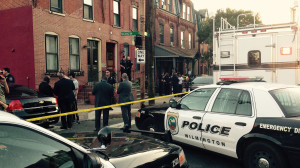 UPDATED STORY: Suspect in Wilmington basement homicide arrested in New York
WILMINGTON, DELAWARE (7/23/2015) A homicide victim was found in the basement of a home in the 500 block of W. Fourth St. this evening, according to officials at the scene.
The 29-year-old gunshot victim was found about 6 p.m.
Police later said they responded to a 911 call of an unresponsive male and provided first aid until New Castle County paramedics arrived.
The man was pronounced dead at the scene.
Police are still investigating and asked anyone with information to call  Detective Brian Conkey at 302-576-3620.
A crowd of several hundred people had gathered in the area by the time police arrived.
Wilmington police arrest 28-year-old man in shooting
Dover police arrest suspect in Simon Circle homicide