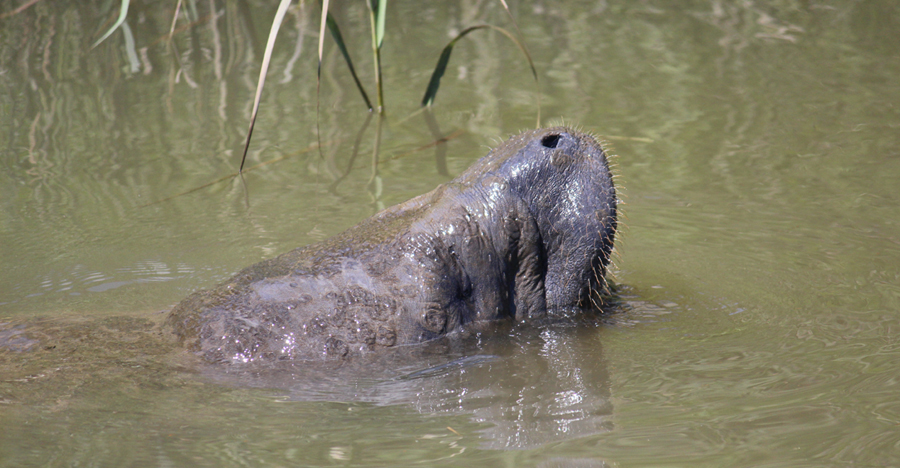 ST. GEORGES, DELAWARE (7/23/2015) A manatee was seen in the Chesapeake & Delaware Canal this afternoon, and state wildlife officials are urging boaters to give it plenty of room.
The marine mammal, also known as a sea cow, is far north of its normal Florida waters.
Noting that propeller strikes are the chief cause of manatee deaths in Florida, Cpl. John McDerby of Delaware's Natural Resources Police urged boaters, "to maintain proper lookout and be cautious in their navigation."
He called it a rare sight in the First State and asked boaters in the canal – or on the Delaware Bay and Delaware River if it goes there – to divert their vessels to enjoy it from a distance.
While unusual, it is not the first time a manatee has been seen this far north.
In 1994, a manatee dubbed Chessie made it to the northern Chesapeake Bay before being captured and flown back to Florida. But a year later it returned north to the Chesapeake and the Delaware River, then went as far north as Rhode Island before losing a tracking tag.
In 1998, a manatee again made it to Delaware and then Long Island but it could not be confirmed if it was Chessie again.
In 2001, Chessie made another appearance in Virginia.
And in July, 2011, Chessie made a confirmed appearance in a marina harbor in St. Leonard, Maryland.
According to the U.S. Geological Survey, Chessie was named after legendary sightings of a "sea monster" in the Chesapeake Bay throughout the twentieth century.