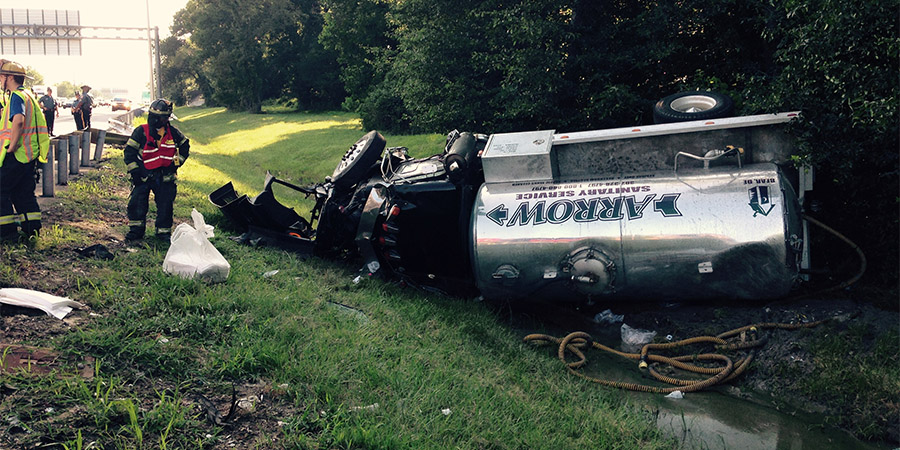 NEW CASTLE, DELAWARE (7/18/2015) Two people were injured in a two-vehicle crash that sent a sanitation tank truck into a ditch on northbound Interstate 95 late this afternoon, closing two lanes of the highway for more than 3 hours and causing delays at the Interstate 295 split south of the Route 141 exit, according to reports from the scene.
Delaware State Police said the crash near New Castle was reported at 5:18 p.m.
The Arrow Sanitary Service truck, used for pumping out septic tanks, struck the right rear of a car with the truck's right front when the trucker glanced down at his GPS, police said.
The 2006 Peterbilt truck, driven by Chester D. Stallings, 40, of Wilmington, then struck a guard rail and overturned.
Stallings had to be extricated from the truck and then was taken by ambulance to Christiana Hospital with injuries that were serious but not life-threatening, police said.
The driver of the car, a 2010 Subaru Legacy, was identified as John M. Malool, 60, of Ridgefield, New Jersey. He was not injured. His passenger, Janet Malool, 59, also of Ridgefield, was taken by ambulance to Christiana Hospital with injuries police said were not life-threatening.
Both were wearing seat belts, police said, but it was unknown if Stallings was wearing one.
Stallings was charged with inattentive driving, driving while suspended, following too closely and no proof of insurance as well as for being wanted for failure to pay for previous traffic charges, police said.
Crews from the Delaware Department of Transportation and Department of Natural Resources and Environmental Control cleaned a sanitation spill from the tanker and also pumped out the truck's fuel tank as a precaution before it was removed.
5 hurt in crash of 3 motorcycles, car on Chapman Road
1 of 2 pedestrians struck in hit-run dies