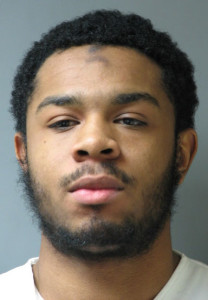 WILMINGTON, DELAWARE (5/28/2015) A 19-year-old man was arrested Wednesday in connection with a shooting in February, and Wilmington police said they seized a guns and drugs.
Tommy L. Broomer, of Wilmington, was arrested about 3:15 p.m. at a home in the 500 block of S. Van Buren St.
He was wanted in the Feb. 5 shooting of a 20-year-old woman in the 200 block of S. Harrison St.
Broomer was wanted on outstanding warrants including assault, escape after conviction, violation of probation, possession of a firearm during commission of a felony and by a person prohibited, possession with intent to deliver heron and conspiracy.
Police said they found a loaded .380 Bersa semi-automatic handgun with an obliterated derial number and .39 grams of heroin in the home, with Broomer facing new charges weapon and drug charges related to those.
A U.S. Marshals task force participated in the arrest.
20-year-old woman shot in Wilmington
Earlier arrest in shooting of 20-year-old woman
Wilmington murder suspect arrested