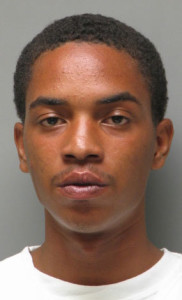 WILMINGTON, DELAWARE (5/28/2015) City police have arrested a suspect in the murder of Derrick Caudle, whose death in December made 2014 a record year for homicides in Wilmington.
Marvin Swanson, 21, of Wilmington, was indicted Tuesday by a New Castle County grand jury on charges of first-degree murder and possession of a firearm during commission of a felony, police said.
Police took him into custody around 11 a.m. at East 24th and Lamotte streets.
He was being held without bail at Young Correctional Institution.
Caudle, 43, of Wilmington, died after being shot in the abdomen late Dec. 20 in the 700 block of Vandever Ave.
His death brought the city's toll for the year to 28 homicides.
Homicide sets record in Wilmington