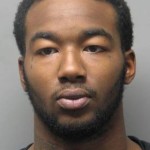 REHOBOTH, DELAWARE (5/28/2015) Two men have been arrested in the weekend robbery of the Capital One Bank branch near Rehoboth Beach, Delaware State Police said this morning.
After receiving tips, police said they connected a vehicle to the crime and stopped it about 9:30 a.m. Wednesday, taking the driver, Mark A. Smith, and a passenger, Lamar M. Smith, into custody.
The two brothers were charged with robbery and conspiracy in connection to the robbery Saturday at 19268 Old Landing Road – adjacent to the Walmart and Rehoboth Mall.
Lamar Smith, 18, of the Travelers Inn Motel at 1036 N. Walnut St. in Milford, also was charged with wearing a disguise.
Police said Mark Smith, 27, lives at 13609 S. Old State Road in Ellendale.
Both were being held at Sussex Correctional Institution, Lamar in lieu of $68,000 secured bond and Mark in lieu of $62,000 secured bond.
Capital One Bank robbed near Rehoboth Beach
WSFS bank robbed in Wilmington