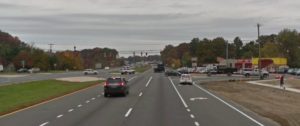 LAUREL, DELAWARE (7/16/2017) A 52-year-old Laurel woman was killed when her bicycle collided with a motorcycle on U.S. 13 east of Laurel, the Delaware State Police said this morning.
The crash was reported at 9:19 p.m. Saturday at Route 24 (Laurel Road).
Police said the woman, later identified as Mary Ann Wade, was attempting to cross the northbound lanes of U.S. 13 (Sussex Highway) when she entered the path of a 1981 Honda motorcycle, driven by a 63-year-old Bridgeville man.
The front of the motorcycle struck the bicycle, throwing Wade into the roadway.
The motorcycle and its driver slid off the roadway into a grass median.
Police said Wade was wearing dark clothing and the bike didn't have a light.
She was taken by ambulance to Nanticoke Memorial Hospital in Seaford, where she was pronounced dead.
The motorcyclist, whose name wasn't released, also was taken to Nanticoke for treatment. Police said his injuries were not life-threatening.
Police said they determined the traffic light at the intersection was green for northbound U.S. 13 traffic at the time of the crash.
The intersection was closed about three hours as police investigated.
2 UD students robbed at gunpoint in Newark