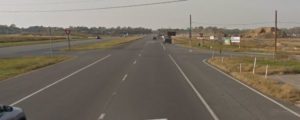 FREDERICA, DELAWARE (7/10/2017) A 41-year-0ld Milford man was injured when he was struck by a vehicle while walking along Route 1 (Bay Road) south of Frederica, the Delaware State Police said Sunday.
The incident happened about 9:12 p.m. Saturday in the northbound lanes just south of Milford Neck Road.
Police said the pedestrian, David M. Cane, was standing partially in the right lane when he was struck by the right side of a northbound 2007 GMC Yukon SUV. The driver of the SUV then brought the vehicle to a stop.
Cane was treated at the scene and taken by ambulance to Bayhealth Milford Memorial Hospital. Police described his injuries as not life-threatening.
Police cited cane for failing to carry a light on a public roadway.
The driver of the SUV, Jennifer R. Valentine, 34, of Pennsylvania, and her passengers were wearing seat belts and were not injured, police said.