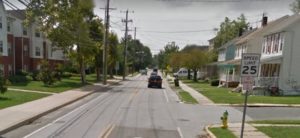 NEWARK, DELAWARE (7/16/2017) Two University of Delaware students were robbed at gunpoint while they were walking on South Chapel Street early Saturday, Newark police said.
The two victims, both 20 years old men, were near Continental Avenue when two men in their late teens or early 20s approached and began a conversation, then produced handguns and demanded the victims' wallets and cellphones.
The victims complied and the two robbers fled north on South Chapel Street.
The UD students were not injured, Lt. Fred Nelson said.
The robbers were described as black, with thin build and wearing dark hooded sweatshirts.
Anyone with information is asked to contact Detective William Anderson at 302-366-7100, ext. 3469, or William.Anderson@cj.state.de.us.