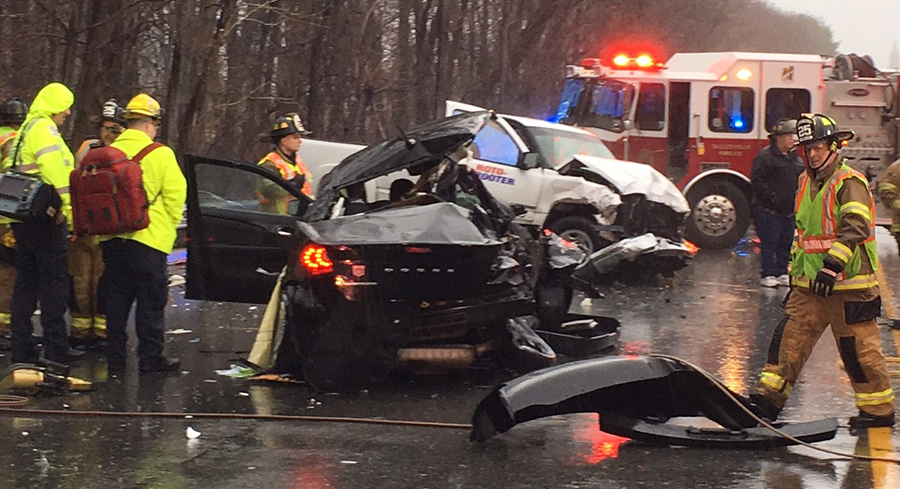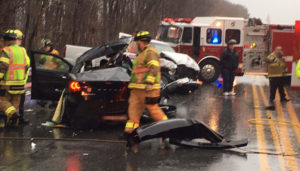 UPDATED STORY: Police release name of 21-year-old man killed in crash
WILMINGTON, DELAWARE (1/23/2017) A 21-year-old Wilmington man died this afternoon in a weather-related crash just north of Wilmington, the Delaware State Police said.
The crash involving a small car and a Roto Rooter pickup truck happened shortly after 2 p.m. on Route 141 (Powder Mill Road) just south of Alapocas Drive.
The man killed was driving a 2013 Dodge Avenger northbound when the car struck a large pool of water that had formed on the roadway from heavy rain, and he lost control of the vehicle, police said.
The car crossed the center line into the southbound lanes and was struck by a southbound 2004 Chevrolet Silverado 2500 pickup truck.
The driver of the car was trapped in the wreckage and declared dead at the scene. His name is being withheld by police pending notification of next of kin.
The driver of the truck, Martin H. Knowles IV, of Wilmington, was treated at the scene by New Castle County paramedics, then taken to Christiana Hospital in Stanton. He was treated there and later released.
Police said both men were wearing seat belts.
The crash remains under investigation.
Route 141 (Powder Mill Road) between Alapocas Drive and Barley Mill Road was closed about 2.5 hours as the crash was investigated and the wreckage cleared.
Talleyville Fire Company also responded.