UPDATED STORY: 2 injured, troopers cite one driver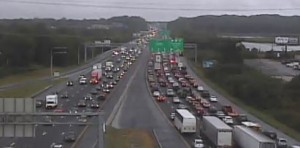 STANTON, DELAWARE (9/30/2015) All lanes have been reopened on southbound Interstate 95 in the Churchmans Marsh area after a major traffic jam involving several crashes with injuries and multiple vehicles, including a tanker tractor-trailer that was leaking racing fuel, according to reports from the scene.
The initial southbound accident happened just after 8 a.m. north of the Churchmans Road exit, with a second southbound accident nearby. Southbound backups lasted more than four hours.
A tanker truck, carrying thousands of gallons of racing fuel, was leaking after being involved in a southbound crash approaching the Churchmans Road exit, and Department of Natural Resources and Environmental Control hazmat crews were called to the scene.
Another minor crash in the northbound lanes at the Route 141 exit also was reported causing delays.
Firefighters, ambulances and Delaware State Police responded.
DelDOT traffic cams showed southbound traffic at a standstill and backed up for miles approaching the area at 10:20 a.m. Only one southbound lane was getting by on the left. The cameras earlier showed major northbound delays as well but hose have cleared.
DelDOT reported all lanes reopened with some minor delays remaining at 12:31 p.m.
18-year-old man killed in fiery crash near Smyrna
Police identify man killed in fiery Pike Creek crash
2 seriously hurt in Newark crash
DelDOT traffic reports via Twitter