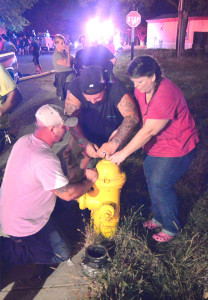 UPDATED STORY: Glasgow Court trailer fires ruled arson
BEAR, DELAWARE (9/24/2015) Multiple fires broke out at the Glasgow Court trailer park off U.S. 40 this evening, according to reports from the scene.
Gunshots were reported in the area with one person taken to a hospital.
The fires were discovered about 7 p.m. in multiple locations, with at least four trailers affected. The trailers were believed to be vacant.
A second alarm was sounded after Christiana firefighters arrived, bringing additional firefighters to the scene from other fire companies.
The initial fire was reported in the 100 block of Garnett St.
It took an hour to control the blazes and there were reports that fire hydrants had been tampered with.
The shots were reported fired before 9 p.m. No other details were immediately available.
Fire hits Macaroni Grill in Talleyville
Driver charged with DUI after bizarre Route 1 car fire