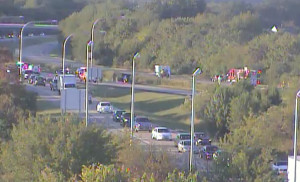 SMYRNA, DELAWARE (9/24/2015) A 21-year-old man was charged with DUI after his car caught fire in a bizarre incident that closed lanes on Route 1 for nearly an hour on Wednesday, Delaware State Police said.
Christopher T. Nagel of Grafton, Ohio, was driving a 1999 Acura CL northbound just south of the South Smyrna exit when the car caught fire while in motion and stopped momentarily in the median, police said.
A trooper responding to the call was on the scene in minutes, police said, and saw the car still in motion and the driver unresponsive with his foot still on the gas pedal.
The trooper and a couple of bystanders used a shovel to smash the windshield to get the driver out, police said, at which time he became alert and put the car in reverse in an attempt to drive away.
The trooper ordered Nagel to stop and get out of the car, which was continuing to engulf the median in flames.
He eventually stopped and got out, police said, but became evasive as the trooper tried to take him into custody.
Several witnesses held Nagel down until the trooper was able to place him in custody, police said.
Nagel was charged with driving under the influence of alcohol, reckless endangering, resisting arrest, criminal mischief, failure to have insurance and driving an unsafe motor vehicle.
He was released on $6,025 unsecured bond.
Firefighters from Citizens Hose Company of Smyrna extinguished the flames. DelDOT reported the road reopened at 6:50 p.m.