UPDATED STORY: Rodney Square vigil honors slain hero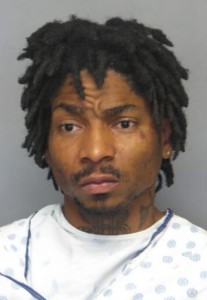 WILMINGTON, DELAWARE (9/15/2015) A man has been charged with first-degree murder in what police say was a random attack near a Rodney Square bus stop late Monday night, with a good Samaritan killed as he was trying to protect a mother and baby he didn't know.
The man killed about 10 p.m. in the 1000 block of N. King St. was identified as Thomas Cottingham, 27, of Wilmington.
Police said Calvin Hooker III, 25, of Wilmington, first confronted a 21-year-old woman who was walking in the area of 10th and N. Walnut streets with her infant daughter in a stroller.
Hooker approached the woman and made reference to a stolen phone, police said.
The woman continued to walk west on 10th Street, realizing Hooker was still behind her. Once the woman entered the 1000 block of N. King Street, Hooker, unprovoked, brandished a large knife and attempted to attack her while chasing her around the bus stop, police said.
The victim attempted to enter an occupied DART bus, her child still secured in the stroller, to elude the attack.
It was at this point that Cottingham intervened, and police said Hooker stabbed him in the back.
Cottingham managed to get about 30 feet away, where he collapsed.
Hooker, police said, then stabbed him several more times in the upper torso before fleeing on foot.
Witnesses directed officers to Ninth and N. Market streets, where police said they found Hooker had entered a different DART bus idling at a bus stop.
Hooker exited the bus holding a large knife, police said, and ignored officer demands to drop the weapon, then fled south into the 800 block of N. Market St. and into an alleyway leading to the 800 block of N. King Street.
Other officers arrived and used a stun gun on Hooker, police said, causing him to drop the knife and fall to the ground. He was placed into custody.
Hooker is being held without bail and will be incarcerated at Young Correctional Institution.
Cottingham was given aid by police until paramedics took over treatment when they arrived. He was then taken by ambulance to Christiana Hospital in Stanton, police said, where he died of his injuries.
"The unprovoked attack was determined be random in nature and no relationship could be established between any of the involved persons," said a statement released by the office of Police Chief Bobby Cummings. "Thomas Cottingham unselfishly placed himself in harm's way, protecting a young woman and her child from imminent danger."
Mayor Dennis P. Williams released a statement saying, "I give my condolences to both the family and loved ones of Thomas Cottingham, and pray they find solace and strength in knowing he was a hero, as he bravely risked his life to protect a fellow citizen."
Police said their investigation is ongoing and asked anyone with information to call Detective Brian Conkey at 302-576-3660 or the Homicide-Confidential Hotline at 302-576-3939.