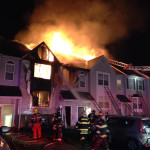 BEAR, DELAWARE (9/10/2015) Fire struck three town houses in the Wellington Woods community in Bear early today, injuring three residents and causing $500,000 damage, authorities said.
Christiana firefighters were called out at 3:58 a.m. to 92 Three Rivers Drive and were later joined by numerous other fire companies.
Initial reports indicated several people were trapped inside, but when New Castle County paramedics arrived all had safely evacuated the home and gone to Christiana Hospital in a private vehicle for evaluation, said Sgt. Michael McColley of emergency medical services.
A 39-year-old woman suffered a back injury and was admitted to the hospital, said Michael Chionchio, assistant state fire marshal.
He said a 13-year-old girl suffered smoke inhalation and was released, an 18-year-old man was admitted with smoke inhalation and a 2-year-old girl was examined and released with no injury. None of the injuries are life threatening, Chionchio said.
He said flames were engulfing a two-story town house when firefighters arrived.
Deputy fire marshals are on the scene searching for the fire's origin and cause, he said.
3 taken to hospital after Wilmington fire
$75,000 fire damage at Swell Tiki Bar near Rehoboth Beach
Simonds Garden playground fire ruled arson