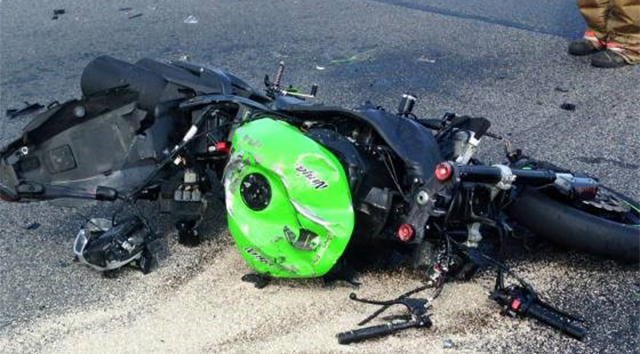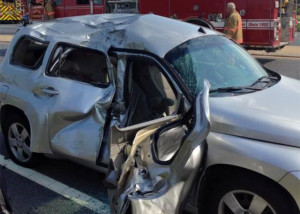 DOVER, DELAWARE (8/30/2014) Three people were in critical condition and two others suffered minor injuries in a collision between a car and stolen motorcycle Saturday on U.S. 13 in Dover, city police said.
Dover firefighters had to extricate one passenger trapped in the car.
The accident happened about 3:10 p.m. at Martin Luther King Jr. Boulevard.
A Chevrolet HHR was northbound and making a left turn onto the boulevard when a southbound Kawasaki ZX6R motorcycle, that police said was going at high speed and weaving in and out of traffic, struck the passenger side of the car.
The motorcycle flipped over the vehicle and the driver, a 31-year-old man, was ejected, Master Cpl. Mark Hoffman said.
The motorcyclist suffered fractures to both arms, legs, pelvis and multiple internal injuries, which Hoffman described as life-threatening. The man was first taken to Bayhealth Kent General Hospital in Dover and then flown to Christiana Hospital in Stanton, where he was in critical condition late Saturday.
The driver of the Chevrolet, a 31-year-old woman, was treated for minor injuries and released, Hoffman said.
Her 12-year-old daughter, who was sitting in the front passenger seat, suffered multiple bone fractures and internal injuries, Hoffman said. She was first taken to Kent General, then flown to Nemours/A.I. DuPont Hospital for Children in Rockland in critical condition.
Two rear-seat passengers in the Chevrolet also were taken first to Kent General and then to the children's hospital.
A 6-year-old boy on the right side suffered multiple bone fractures and a severe cut to his face and head. He was in critical condition, Hoffman said.
He said a 3-year-old in the rear driver's side suffered minor injuries but was taken to the hospital for evaluation and treatment.
Southbound U.S. 13 and eastbound Martin Luther King Jr. Boulevard were closed until about 6:30 p.m. while police investigated the crash.
The motorcycle was reported stolen from Fairfax County, Virginia. Hoffman said police are still investigating and no charges have been filed.
Police: Woman killed on U.S. 13 jumped from husband's truck
Driver charged with DUI after U.S. 13 crash in Canterbury
82-year-old man struck, killed on U.S. 13
4 hurt in fiery Grubb Road wreck of SUV, motorcycles