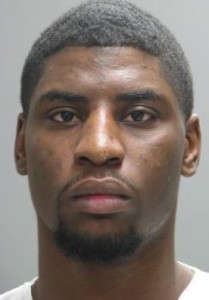 SMYRNA, DELAWARE (8/15/2015) A Smyrna man was arrested early today on burglary charges after he fled from officers, police reported.
An officer spotted Ezekiel Sullivan, 22, of the 100 block of N. Delaware St., about 12:25 a.m. standing on Lincoln Street. Police said he was wanted on numerous warrants.
As the officer approached and attempted to take Sullivan into custody he resisted and ran, Cpl. Brandon Dunning said.
With help from Clayton and Delaware State Police, including a K-9, Sullivan was found hiding in bushes near the Lincoln and Mount Vernon streets intersection.
He was arrested in connection with four burglaries in the Smyrna area:
July 30 in the 100 block of N. DuPont Blvd.
July 31 incident which occurred in the first block of W. Mount Vernon St.
Two burglaries Aug. 4 in the 100 block of E. Glenwood Ave.
At the time of his apprehension Sullivan also had five active warrants' from the Kent County Court of Common Pleas, Dunning said.
He was charged with resisting arrest, three counts of burglary third degree, one count of burglary second degree, three counts of criminal mischief, four counts of theft under $1,500, two counts of possession of burglary tools and one count of conspiracy second degree.
Sullivan was being held at Vaughn Correctional Center near Smyrna in lieu of $15,000 secured bond.
Smyrna police charge evicted tenant with burglary