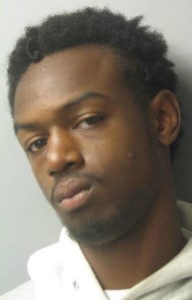 WILMINGTON, DELAWARE (7/27/2015) An 18-year-old man was arrested on a gun charge after he ran when police made a traffic stop at Ninth and Adams streets, Wilmington police reported today.
The incident happened about 1 a.m. Friday.
Police said the man was seated in the rear seat and officers giving chase saw him holding his waistband area as he fled.
He was captured in the 800 block of W. Ninth St.
A search of the area found a .40 caliber Glock handgun with extended magazine loaded with 16 rounds of ammunition, police said.
Howard Watkins of Wilmington was charged with possession of a firearm by a person prohibited and resisting arrest. He was being held at Young Correctional Institution in lieu of $6,000 secured bail.
Police said the driver of the vehicle was issued traffic citations for failure to signal and driving without a license.
Homicide victim, 29, found in Wilmington basement
Boyfriend charged in playground murder