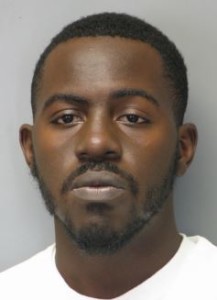 NEWARK, DELAWARE (7/23/2015) A 23-year-old man was arrested Wednesday night in connection with a Wells Fargo Bank robbery last month at 622 S. College Ave. in Newark, city police said this morning.
Jarone Walcott, of Darling Street in Newark, was arrested in a vehicle at the Red Roof Inn on Stanton Christiana Road.
Sgt. Gerald J. Bryda said Walcott also is a suspect in the attempted robbery of another Wells Fargo branch, on Capitol Trail near Newark on July 10, investigated by Delaware State Police.
Bryda said items linking Walcott to the Newark robbery were found in his vehicle as well as drugs and drug paraphernalia.
Walcott was charged with robbery, attempted robbery, possession of drug paraphernalia and possession of a non-controlled substance without a prescription.
He was being held at Young Correctional Institution in Wilmington in lieu of $28,500 secured bond.
Newark police charge couple in Exxon robbery