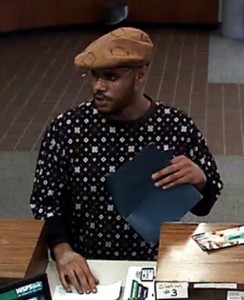 WILMINGTON, DELAWARE (7/23/2015) A reward is being offered for tips from the public to help identify a man Wilmington police say has committed three bank robberies.
The latest robbery happened July 15 at the WSFS branch at 211 N. Union St., which police say also was robbed by the man on May 20. The other robbery was May 13 at PNC Bank in the 300 block of Delaware Ave.
In each robbery, the man presented a demand note to the teller and received cash before he fled on foot.
He was described as black, 25-35 years old, about 5-feet-10 to 6-feet-3 and 200-220 pounds. He has a tattoo of an unknown written phrase on the right side of his neck and discoloration from scarring, possibly a burn mark, on his right hand.
The Wilmington Police Department is offering a $1000 reward for the identity of or information leading to the arrest of the suspect. In addition, PNC Bank is offering a reward of $5,000 for information leading to an arrest and conviction
Anyone with information is asked to call Detective Michael Hayman at 302-576-6240.