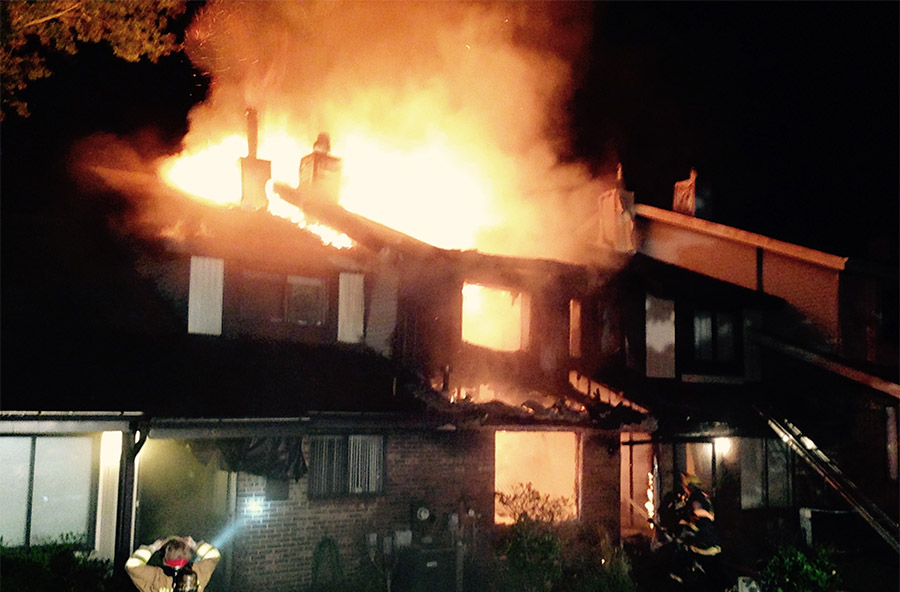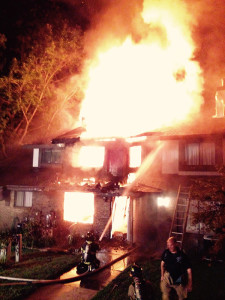 PIKE CREEK, DELAWARE (7/20/2015) A fire that swept through a Pike Creek town house Sunday night caused an estimated $200,000 damage, the Delaware state Fire Marshal's Office said this morning.
The blaze in the 4900 block of S. Raintree Court in the Pepper Ridge community was reported at 10:50 p.m.
Firefighters from Mill Creek arrived to find the middle-of-the-row home engulfed in flames, and a second alarm was called.
Firefighters quickly contained the fire to avoid spreading to neighboring units, according to the Mill Creek Fire Company. More than 75 firefighters battled the blaze in 85 degree heat. Two firefighters were taken to a hospital and later released.
The blaze was declared under control a couple of hours after the initial response, but firefighters remained on the scene until 3 a.m., pouring water on the collapsed structure, the fire company said.
Firefighters from Aetna Hose, Hook & Ladder, Hockessin, Belvedere, Christiana, Cranston Heights, Five Points, Elsmere and Minquas Fire Companies assisted Mill Creek. Numerous other fire companies were called out to cover fire stations whose members were fighting the fire. Multiple ambulances and medical units responded, the fire company said.
Two adjacent townhomes were damaged by smoke and water, said Robert L. Fox, chief deputy state fire marshal.
He said residents were not home at the time of the fire and there were no injuries to residents reported. The displaced residents are staying with family.
Investigators are still trying to determine how the fire started, Fox said.
Middletown home heavily damaged by fire
15-year-old boy charged with arson in Edgemoor fire
Fire heavily damages home near Selbyville
1 hurt as fire destroys Pike Creek townhomes