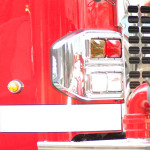 SELBYVILLE, DELAWARE (7/17/2015) Fire heavily damaged a home east of Selbyville, authorities reported today.
The blaze broke out about 8:30 a.m. Thursday in the 38000 block of Old Mill Bridge Road, said Harry R. Miller, chief deputy state fire marshal.
When Roxana firefighters arrived, he said, there were flames in the rear bedroom of the first floor and the unfinished second floor of the two-story, wood-frame structure.
Firefighters from Millville, Bethany Beach, Frankford and Rehoboth Beach assisted in fighting the blaze.
Miller said the fire originated in the first floor bedroom, and the cause is still under investigation.
No one was home at the time of the fire.
One firefighter suffered minor injuries when he fell through the ceiling of the attached garage, but refused treatment, Miller said.
Damages was estimated at $300,000.