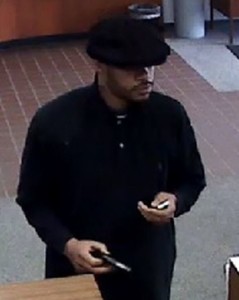 WILMINGTON, DELAWARE (5/21/2015) City police have released a surveillance image of a man they say robbed a WSFS bank branch on Wednesday.
The robbery happened about 11 a.m. at 211 N. Union St.
The robber was described as black or hispanic with a tattoo on the right side of his neck. He was about 6 feet tall and 200-220 pounds.
The teller turned over an undisclosed amount of cash and the man fled.
Police searched the area but failed to locate the man.
Anyone with information is asked to call Detective Robert Fox at 302-576-3619 or 302-893-5907.