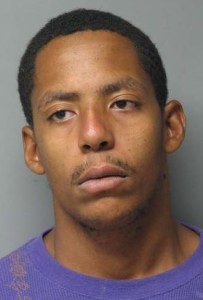 DOVER, DELAWARE (5/20/2015) A fugitive was arrested on drug charges after a traffic stop, Dover police said this morning.
The arrest came about 2:40 p.m. Tuesday at South State Street and Wyoming Avenue, Cpl. Mark Hoffman said.
He said Robert Young, 25, a homeless Dover man, was charged with possession of crack cocaine and drug paraphernalia, criminal impersonation for giving a false name and being an out-of-state fugitive.
Hoffman said Young was wanted by Delaware State Police, Frederica police and on a warrant from Pennsylvania.
He was being held at Vaughn Correctional Center in near Smyrna  lieu of $9,266 secured bond.
The arrest was made by Dover's street crimes unit, recently re-formed in the wake of several homicides and shootings in the city.
Dover police bring back street crimes unit
Two arrested in Dover's Walker Woods homicide
Man wounded in Dover drive-by shooting