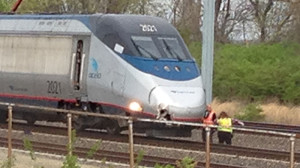 CLAYMONT, DELAWARE (5/1/2015) The name of a 21-year-old man struck and killed by a train on Thursday was released this afternoon by Delaware State police.
Anthony J. Pellerito, of Claymont, died about 4:30 p.m. when he was hit by a southbound Amtrak Acela near the Claymont train station.
State police said their investigation of the incident is continuing.
Train service resumes after pedestrian killed
Pedestrian killed on U.S. 13 in hit-and-run is identified