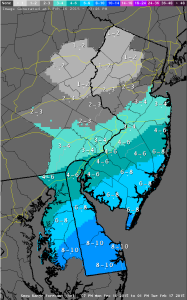 UPDATED STORY: More snow due; state offices closed
DELAWARE (2/16/2015) The snowstorm tonight is coming on the heels of record-breaking cold temperature in the state.
At Sussex County Airport near Georgetown, the temperature fell to 6 degrees this morning, breaking a record of 10 set in 1987, according to the National Weather Service.
The temperature dipped to 2 degrees at New Castle Airport, matching a record set in 1943.
The service keeps records dating to 1893 at New Castle Airport and to 1948 at Sussex.
At Winterthur, the temperature bottomed out at 1.3 degrees below zero just after 6:30 a.m., according to the Delaware Environmental Observing System. 
Wind chill this morning was as low as minus 20 degrees upstate and minus 11 downstate, the service said.
The continuing bitter cold grips the state as Delawareans brace for what could be one of the heaviest snowstorms of the season.
The service issued a winter storm warning from 6 tonight until noon Tuesday.
Visibility during the storm may be limited to between a quarter and a half mile, the weather service said.
Overnight low temperatures the next few days will be in the low teens, but are expected to drop to minus 3 upstate and 4 degrees above zero downstate on Thursday night.
As the cold and wind continue, so do power outages across the state. Several thousand outages were reported Sunday, and this morning Delmarva Power had more than 2,200 customers without electricity in Delaware and the Eastern Shore of Maryland.
Some customers in the Rehoboth Beach were without power for more than 24 hours.
Burst pipe forces evacuation at Deemers Landing apartments
Snowfall totals from weekend storm
Code Purple sites sheltering homeless from cold
Dover police offer tips for coping with the cold