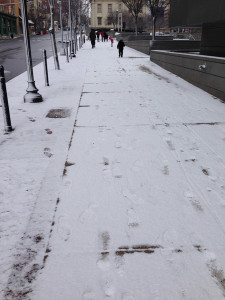 STORM UPDATE: More snow due Monday
DELAWARE (2/14/2015) With snow tonight and temperatures to hit single digits Sunday night and early Monday, and winds gusting as high as 60 mph, the volunteer Code Purple sites to shelter the homeless have extended their availability, state officials say.
"The temperatures and wind chills expected in Delaware are potentially dangerous to anyone who might be outside for an extended period," Gov. Jack Markell said. "That's why I am grateful to all of the Code Purple locations in our state that can provide a safe place for people to sleep. During the next few days, I urge Delawareans who see people outside who don't appear to have a place to go, to call 911 so police can help get them to a safe location."
Code Purple, based at houses of worship and community centers, uses volunteers to manage operations, and their hours vary by site, according to Jill Fredel, communications director for the Delaware Department of Health and Social Services.
To be connected to Code Purple resources, call Delaware 211, or search for "Code Purple" on the Delaware 211 mobile app or on www.delaware211.org.