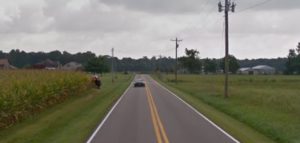 FARMINGTON, DELAWARE (9/30/2017) A 41-year-old man was killed and two other people injured in the crash of a pickup truck west of Farmington, the Delaware State Police reported this morning.
The crash happened about 9:18 p.m. Friday on Andrewville Road east of Greenwood Road.
Police said a 2008 Ford F-150 pickup was eastbound when for unknown reason it went off the road, spun around and struck a mailbox, then overturned several times in the front yard of a home. Two of the three occupants of the truck were ejected onto the ground.
The pickup came to rest upright in a corn field.
A 41-year-old Greenwood man was taken by ambulance to Bayhealth Milford Memorial Hospital, where he was pronounced dead. His name was withheld by police pending notification of next of kin.
A 22-year-old Greenwood woman was taken by ambulance to Milford Memorial and later transferred to Christiana Hospital in Stanton in critical condition.
A 45-year-old Harrington man was taken to Nanticoke Memorial Hospital in Seaford, where he was treated and released.
Police said none of the occupants were wearing seat belts.
Investigators have not yet determined the driver of the truck.
"Alcohol and speed may have been contributing factors in the case," Master Cpl. Gary Fournier said.
Andrewville Road was closed about 4.5 hours while the crash was investigated and the wreckage cleared.
Teens injured in head-on Greenville crash