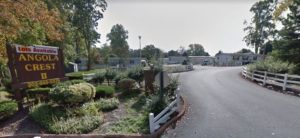 ANGOLA, DELAWARE (8/10/2017) One person was found dead inside a house trailer that burned in the Angola Crest II community early today, authorities said.
The fire was reported shortly after midnight at 23289 Lawrence Drive.
Flames were coming from the trailer when Rehoboth Beach firefighters arrived, said Michael G. Chionchio, assistant state fire marshal.
The victim was taken to the Division of Forensic Science for an autopsy.
Investigators are still trying to determine how the fire started.
Damage was estimated at $30,000, Chionchio said.