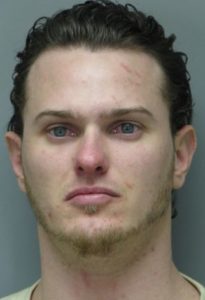 WOODSIDE, DELAWARE (8/12/2017) A good Samaritan who stopped to help a man passed out at the wheel of a pickup truck ended up having his SUV struck by the pickup, the Delaware State Police said. The pickup driver later fled but eventually surrendered to police and faces numerous charges.
The hit-and-run incident happened about 9 a.m. Friday on Walnut Shade Road east of Woodside.
Police said Shawn R. Shane, 37, of Hartly, was driving a 1999 Chevrolet 1500 pickup truck westbound and stopped in the road just east of U.S. 13 (South DuPont Highway).
A 53-year-old Magnolia man, driving a 2004 Buick SUV, drove around the truck and parked in front after he noticed the pickup driver passed out at the wheel. When the 53-year-old man knocked on the window of the pickup, the driver, later identified as Shane, woke up and accelerated into the back of the Buick, police said. The Buick driver was not injured.
The Buick driver called 911 and emergency medical technicians arrived and tried to remove Shane from the driver's seat, police said, but he drove away, almost striking one of the EMTs. Neither EMT was injured.
Troopers found the truck about a mile north on U.S. 13 near Longacre Drive, but the driver had fled. Police said information inside the truck identified Shane as the driver.
Shane turned himself into police at Troop 3 near Camden about 2 p.m. Friday.
He was charged with possession of a deadly weapon (the truck) during commission of a felony, reckless endangering, carrying a concealed dangerous instrument (a knife found in the truck), resisting arrest, possession of 2.12 grams of marijuana found in the truck, possession of drug paraphernalia, leaving the scene of a property damage collision, driving while suspended or revoked, failure to have insurance in possession, failure to provide information at a collision scene, inattentive driving and leaving a vehicle on the roadway.
Shane was being held at Vaughn Correctional Center near Smyrna in lieu of $8,153 secured bond.
Pedestrian struck on Philadelphia Pike in critical condition