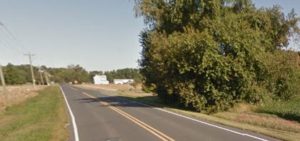 MILFORD, DELAWARE (6/24/2017) A 24-year-old Harrington man has died from injuries suffered in a single-vehicle crash northwest of Milford, the Delaware State Police reported Friday.
The crash happened about 11:24 p.m. Sunday on Canterbury Road just south of Blue Jay Lane.
Police said Cody S. Hopkins was driving a 2006 Dodge Ram pickup truck northbound when his right tires went off the east side of the road, then struck a group of trees and overturned, ejecting him onto Blue Jay Lane. The truck came to rest on its right side on Blue Jay Lane.
Hopkins was first taken by ambulance to Bayhealth Milford Memorial Hospital, then transferred to Christiana Hospital in Stanton, where he died on Tuesday.
"Speed and alcohol use appear to be factors in this crash which remains under investigation at this time," Master Cpl. Jeffrey R. Hale said.
Man killed in U.S. 40 crash in Bear is identified