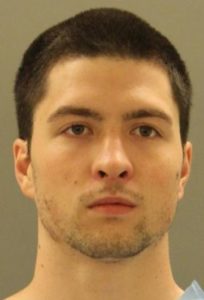 MINQUADALE, DELAWARE (5/9/2017) The arrest of a 23-year-old Elsmere man in the kidnapping and sexual assault of a 4-year-old Pike Creek girl has taken a predator off the street, New Castle County's police chief said Monday.
Police said Daniel M. Santucci Jr., of the 600 block of New Road, lured the girl to his car in the Village of Plum Run community on April 6, kidnapped and sexually assaulted her then threw her into a large pond in the rear of Banning Park near Wilmington.
Police said Santucci abandoned his black Honda Civic used in the crime in the middle of Centerville Road with the driver's side open to stage his disappearance.
Santucci was arrested in Tampa, Florida, on April 20, where he fled on a Greyhound bus in violation of probation, said Col. Vaughn Bond Jr., chief of police.
He was extradited to Delaware on May 1 and charged in the kidnapping and sexual assault on Friday.
Santucci and the victim didn't know each other, Bond said.
"I share the feeling of relief with the community and our officers now that this predator is off the street," said Bond. "I'd like to express my sincere thanks to the citizens who took the time to call in suspicious activity and offered their personal surveillance footage which all proved to be valuable in this investigation. I'd also like to acknowledge and thank our partner law enforcement agencies who played a critical role in this investigation by performing a wide array of tasks which led to this arrest."
Santucci was charged with first-degree attempted murder, first-degree kidnapping, unlawful sexual contact with a person under 13 years old, and possession of child pornography not related to the victim.
He was being held at Young Correctional Institution in Wilmington after failing to post $1,076,000 cash bail.