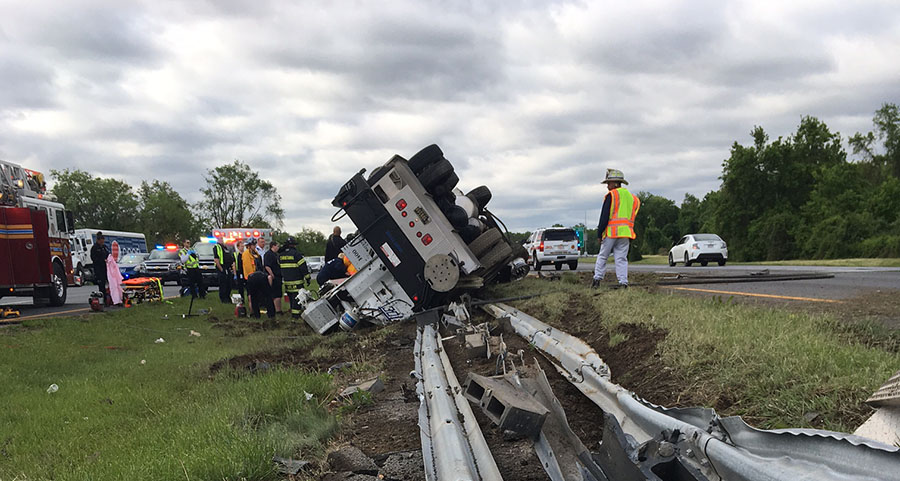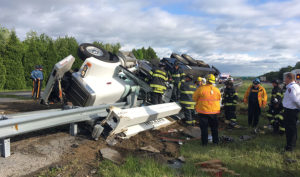 BEAR, DELAWARE (5/6/2017) A crane overturned on Route 1 in Bear this morning, trapping the driver in the wreckage and jamming traffic on the highway in both directions for hours.
Delaware State Police said the crash happened about 7:45 a.m. between Route 273 and Route 40. By 12:30 p.m., the wreckage of the crane had been removed but only one lane was open in each direction on Route 1. Earlier all lanes had been closed. By late afternoon all lanes were open but cleanup crews remained on the scene.
The truck was southbound when it flipped onto the driver's side onto a metal guardrail in the median.
"The Peterbilt Crane Truck had a tire blowout on the front left side of the vehicle which caused the truck to swerve into the center median. The crane truck then struck the center guard rail and overturned onto its left side. After striking the center median flying debris struck passing vehicles which sustained minor damage and with no injuries," Sgt. Richard Bratz said.
Emergency crews from Christiana and several other fire companies extricated the driver, who was trapped in the cab of the three-axle Peterbilt truck with a crane body for about 75 minutes. Police identified him as Francis J. Roberts, 52 of Middletown.
The driver was treated for a possible chest injury and scrapes, said Cpl. David J. McKinney Jr. of New Castle County paramedics, before being taken by ambulance to Christiana Hospital in Stanton in stable condition. Police said his injuries were not life-threatening.