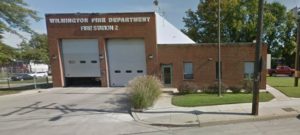 WILMINGTON, DELAWARE (5/2/2017) Two St. Francis ambulance workers were injured during an assault at a Wilmington fire station late Monday night, authorities said.
The two emergency medical service workers, assigned to Fire Station 2 at 400 Newcastle Ave., were sitting in front front of the fire station along with another St. Francis unit when they were approached by three pedestrians, Deputy Fire Chief James R. Jobes said.
"One of the three pedestrians began talking to the EMS workers stating that he was having chest pains. EMS workers began their normal medical protocol asking appropriate questions to determine the severity of the pedestrian's chest pains," Jobes said.
"Soon after one of the two EMTs unprovoked was punched in the face. Those EMTs initiated a '10-40,' a distress call for an officer in trouble," Jobes said.
"The second EMT gave chase to the assailants where he caught up with one and a brief struggle ensued," Jobes said, and the emergency medical technician suffered a hand injury during the fight. The assailant fled.
Officers from Wilmington Police Department, New Castle County Police Department, St, Francis ambulance, and Wilmington Fire Department members responded, but a search of the area failed to locate the three pedestrians.
Both EMTs involved were taken by ambulance to St. Francis Hospital with non-life-threatening injuries. The EMT assaulted was evaluated for facial injuries and the second EMT was evaluated for a hand injury.
Jobes asked anyone with information to contact the Wilmington Fire Marshal's office at 302-571-3120.
Idaho man charged in assault of 4 Delaware police officers