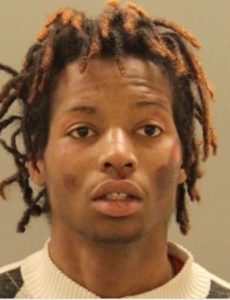 NEWARK, DELAWARE (5/3/2017) An Iowa man was arrested in connection with the assault of four officers Tuesday in the Yorkshire community near Newark, the New Castle County police said this morning.
The incident happened about 5 p.m. in the 1100 block of Janice Drive.
Police said they went to investigate a report of a suspicious person who was soliciting door-to-door and saying he had a gun in his bag.
Two county officers arrived and stopped 22-year-old Dion L. Brown of Newton, Iowa, attempting to take him into custody, but he began to fight with them, police said.
"Brown bit an officer, breaking the skin, and struck another officer, causing a concussion and lacerations. Officers used their departmentally issued Taser on Dion L. Brown, but it had little effect," Officer First Class John-Paul Piser said.
Delaware State Police Troopers, Newark Police Officers, and Delaware Office of Animal Welfare Officers responded and were able to subdue Brown.
A total of four officers were injured, Piser said, and they were taken by ambulance to an area hospital, treated and released.
Brown also was taken to a hospital for treatment and later released into police custody.
All four injured officers were transported to an area hospital where they were treated and released.
Police did not locate a firearm on Brown or in his bag, Piser said.
Brown, 2000 block of W. 18th St., was charged with four counts of second-degree assault of a police officer, four counts of felony resisting arrest with force and two counts of criminal mischief. He was arraigned and committed to Young Correctional Institution in Wilmington after failing to post $42,200 cash-only bail.
Police originally reported Brown was from Idaho but later revised his hometown.
2 EMS workers injured in assault at Wilmington fire station