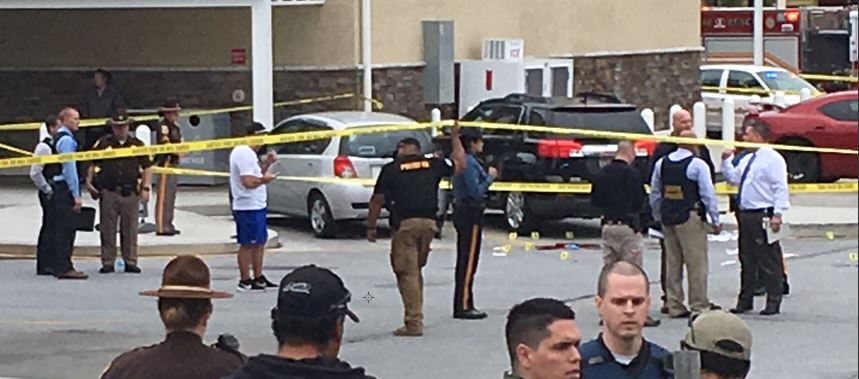 UPDATED STORY: Police say trooper slaying suspect fires more shots at officers during standoff
BEAR, DELAWARE (4/27/2017) A Delaware State Police trooper shot to death this afternoon at a Wawa convenience store along U.S. 40 in Bear has been identified, and a standoff with a suspect who police say fired shots at officers at a home north of Middletown continued late into the night.
Police said an explosive breeching charge was used at the front door of the home at 8:22 p.m., but officers didn't try to enter.
The slain trooper was identified as Cpl. Stephen J. Ballard, 32, who has been with the state police force 8½ years. He was assigned to patrol at Troop 2 in Glasgow.
The trooper shooting happened about 12:10 p.m. in the parking lot of the store at 1605 Pulaski Highway (U.S. 40), at the Salem Church Road and Porter Road intersection, when the officer encountered two suspects inside a suspicious vehicle. One exited the vehicle and began firing, Col. Nathaniel McQueen Jr., superintendent of state police, said at a late-afternoon news conference.
McQueen said several rounds struck the trooper. Other troopers arrived and took one suspect into custody. The other fled on foot.
The trooper was treated at the scene and taken to Christiana Hospital in Stanton, where the news conference announcing his death was held.
"One of our sworn troopers has lost his life performing a duty on behalf of the people of Delaware," Gov. John Carney said. "My heart is with the officer's family and the officers who have served beside him. Delaware's law enforcement officers go to work every day knowing they put their lives on the line to protect ours. We are incredibly indebted to their bravery and service."
Carney later ordered U.S. and state flags be flown at half staff until further notice in memory of Ballard.
In the Middletown area, state police Sgt. Richard D. Bratz said shortly after 3 p.m., "Multiple police agencies are on the scene of a shots fired complaint in the 500 block of St. Michael Drive, Brick Mill Farm development."
He said this was related to the trooper shooting and, "A male suspect has refused orders to surrender and continues to fire rounds at police officers."
At 4:38 p.m., Master Cpl. Gary Fournier said multiple special operations and conflict management teams were attempting to make contact with the suspect and were attempting to persuade him to surrender.
Fournier said at 11:30 p.m. the standoff was continuing. He didn't know what type firearm the suspect was using.
Some residents in the area have been evacuated, Fournier said. The standoff is at the home of the suspect, where he lives with his family, but he was the only one in the home, Fournier said.
The Odessa Fire Company at 304 Main St. in Odessa was opened to temporarily house evacuated residents, Fournier said.
Police did not release the suspect's name but Fournier said the investigation at the Wawa led to identifying him and to the home, which is about 8½ miles south of the Wawa store. There was no police pursuit, he said.
Fournier said no injuries were reported during the standoff.
Residents in the Brick Mill Farm area were asked to remain inside their homes and lock the doors.
Numerous police vehicles converged on the Wawa store after the shooting, according to reports from the scene, and DelDOT reported major traffic delays in the area. Bratz asked motorists to choose alternate routes to avoid congestion as police investigated.
Initial reports indicated police were searching for an armed person at the Dove Run area off Middletown Odessa Road (Route 299) in Middletown, and a lockdown of schools in the area was in place until shortly before 3 p.m.
"We have been notified by police that an armed individual is in the vicinity (the exact location has not been confirmed). The police have set up a perimeter. As a precaution, ALL area schools have gone on lockdown," a statement on the Appoquinimink School District website said. "Brick Mill Elementary buses that were returning from a field trip have temporarily been diverted to the Marion E. Proffitt Training Center."
"Parents, the police have indicated that you are to refrain from going to our schools. You will not be allowed to enter the area. As soon as an "all clear" has been received, we will be notifying you. STUDENTS WILL NOT BE DISMISSED FROM SCHOOL UNTIL WE HAVE AN ALL-CLEAR FROM POLICE," according to the statement. "That means dismissal will be delayed."
School officials announced shortly before 3 p.m. the police had OK'd lifting the lockdown. Delays of 30-45 minutes were expected in drop-off times for elementary school students.
The Christina School District also advised parents that delays were possible for students arriving home due to the police activity in Bear.
"Parents who pick children up from school may also experience traffic delays," said a statement on the district's website. "Each school has a plan in place to keep your child safe at school with adult supervision until you arrive, and students will be served an after-school snack."
DelDOT reported the westbound right lane and turn lane on U.S. 40 were closed at Salem Church Road due to the police activity.
In the Middletown area, DelDOT reported Marl Pit Road closed between Shallcross Lake Road and U.S. 13 due to the police activity.
DelDOT also reported police activity has closed the southbound right lane of Route 896 approaching Old Baltimore Pike, but it wasn't clear if this was related to the trooper shooting.