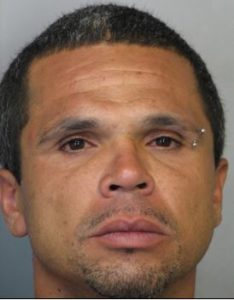 HARRINGTON, DELAWARE (4/1/2017) A 47-year-old Frederica-area man was arrested on a third DUI charge after fleeing an officer in Harrington, city police said Friday. Two others in the vehicle also were arrested.
The incident began about 10 p.m. Thursday when a Harrington officer in a marked cruiser attempted to stop the vehicle for a traffic violation on South DuPont Highway (U.S. 13), Capt. Earl K. Brode said.
The driver fled north on the highway at high speed and in a reckless manner, Brode said. Police ended the pursuit at Irish Hill Road in Canterbury for safety reasons.
Officers from several local police departments, Delaware State Police and Delaware Alcohol and Tobacco Enforcement spotted the vehicle pull into a driveway on Main Street in Woodside a short time later.
The driver, identified as Antonio T. Heredia, of the 4700 block of Andrews Lake Road, was charged with third offense driving under the influence of alcohol, disregarding an officer's signal, resisting arrest, driving with a suspended or revoked license and other traffic violations. Brode said his two previous DUI convictions dated to 2003.
Heredia was being held at Sussex Correctional Institution in lieu of $4,211 secured bond.
One of the passengers, Carrie C. Dixon, 34, of the 25000 block of North Berry Bramble Fall near Millsboro, was issued a criminal summons for resisting arrest and released.
Another passenger, Chelsea Abrams, 26, of Denton, Maryland,had an active warrant out of Kent County Court of Common Pleas for failure to appear for a criminal trial. She was arraigned and released on $500 unsecured bond.
The two others taken into custody were questioned and released without charges, Brode said.