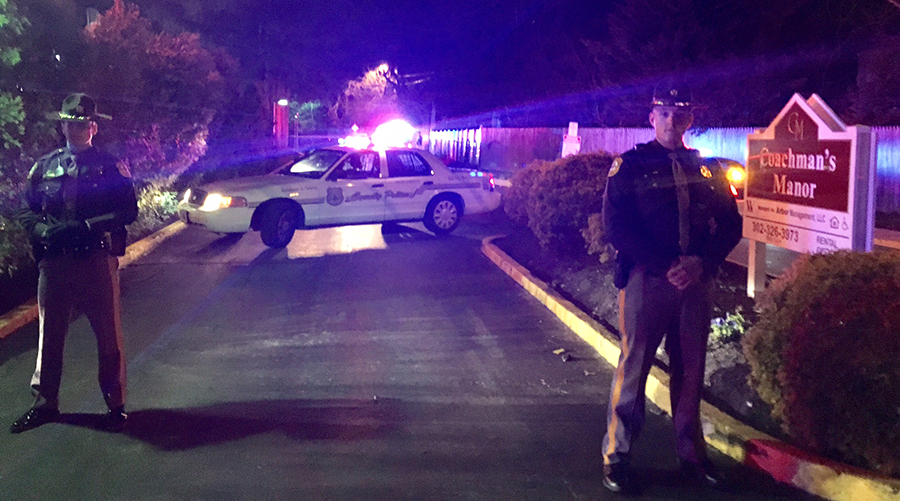 NEW CASTLE, DELAWARE (3/30/2017) A 28-year-old Philladelphia man was killed Wednesday night when a New Castle County police officer shot him as he was attempting to flee, authorities said. The man killed apparently had been shot earlier by Philadelphia police.
The officer-involved shooting happened about 7:45 p.m. at the Coachman's Manor apartments, in the 100 block of Carriage Way near New Castle.
Police said today they went to the apartments looking for the suspect wounded in the Philadelphia shooting and found him there. He fled on foot to a parked vehicle and attempted to drive off.
"An officer attempted to apprehend the suspect when the suspect engaged in conduct which resulted in the officer discharging the officer's departmentally issued handgun," Officer First Class John-Paul Piser said.
"The suspect's vehicle continued a short distance into the Rogers Manor Parkland, where the suspect was located suffering apparent gunshot wounds. Officers immediately rendered medical aid to the suspect," Piser said.
The man shot was taken by ambulance to Christiana Hospital in Stanton, where he later died.
Police initially had reported the shooting happened during a struggle between the officer and suspect.
Police said the man killed was believed to be the same one shot by officers at 56th and Whitby Avenue in Philadelphia, about 5:30 p.m. Wednesday. The man was identified by Philadelphia police as Leroy Brown Jr., of the 5600 block of Whitby Ave., and police said he fled in a stolen Dodge Avenger.
New Castle County police said that children who were with him in the Avenger were dropped off at a home prior to his interaction with officers at Coachman's Manor.
A Philadelphia officer was treated for injuries at a hospital and released.
New Castle County police are asking anyone with information to call detectives at 302-573-2800.
Tips also may be submitted anonymously through Delaware Crime Stoppers, which offers rewards, at 800-847-3333 or www.delaware.crimestoppersweb.com.